Welcome to the Class of 1995 Website!
---
Hello, and welcome to a website that is long overdue! This is the official page of the Class of 1995 from Clinton, NY. Hopefully this will be the page that will have all the news about the class happenings(reunions) and the like. I now have a listing of all the email addresses I am aware of but I'm sure I will be getting some more soon. If you have suggestions, complaints, or whatever else let me know. If you have a picture from the old days, please send it to me and I will get it on the page. Also, if you have a website you want other classmates to see, please let me know! And also please send suggestions, I would like to put the colleges we are attending, or whatever else everyone is doing, on here soon also. So please keep me updated! Thanks in advance. -Dave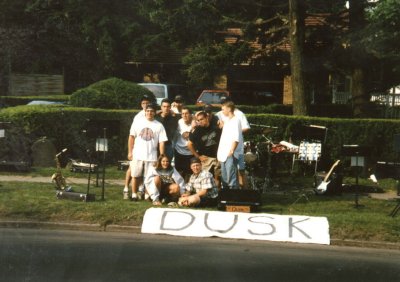 This is a picture of myself (front left, with backwards hat) with my band "DUSK" at the '97 Boilermaker road race. Within the pic are classmates Kevin Parucki and Jon Mroz.
---
This webpage is maintained by David Barnaba
Copyright © 1995-2004 Crasheroar Computer Productions